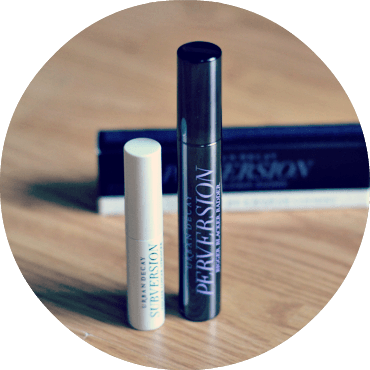 Urban Decay is a very bloggy brand. Everyone loves the Naked palettes and there's probably about 203959205929592 reviews of the Naked 3 on the interwebs. Including this blog here.
I've only tried their eye shadows and never any other makeup products. I do have my eye on their foundation. Help. This means I'm probably going to buy it.
Another thing I had my eye on was this perversion mascara, with a lash primer known as subversion – how cute.
Well, I don't know if cute and perversion go well in the same sentence but I'm doing it anyway. Try and stop me. Come at me.
The primer is a white coating that reminds of that Bourjois double ended mascara I had when I was 15. I've not really seen or heard much about eye lash primers since then. I know I'm not makeup expert, I don't keep up with the latest products but I do keep up with a lot of blogs – none of which talk of this mascara or primer.
It was only released this summer, which is maybe why it doesn't have as many fan girls as Benefit's They're Real mascara – which I think is probably one of the most mediocre mascaras I've ever tried and I still get the urge to bang my head against my desk when I remember I spent £18 of my own money on that rubbish.
Anyway, back to the primer. It's basically like foreplay for lashes. It coats your lashes and gives the mascara something to hold onto to allow it to glide on easier, giving your lashes volume and making them seem longer.
The mascara itself is a dark dark black. It claims to never get clumpy. It applies well and really helps give my thin, yet long lashes, extra volume.
The brush pulls through the lashes easily and seems to get most of them, without having to angle your hand in an inhuman manner to coat each one.
This is now my new favourite mascara! Finally one that I am happy with. It's a pity it's so expensive though!
Have you ever tried this mascara? What do you think of it?
Related post: